HTML Encode/Decode
To convert all eligible characters to their appropriate HTML entities, use our HTML Encode/Decode Tool. You may also use the tool to decode encoded characters and convert HTML code to a JavaScript Unicode string.
What is HTML?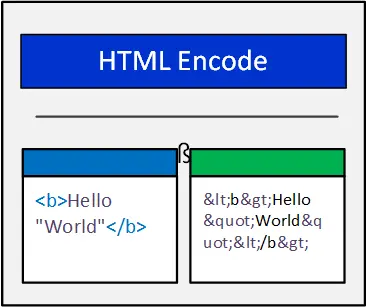 HTML (Hypertext Markup Language) is a markup language for texts that are intended to be viewed in a web browser. Technologies such as Cascading Style Sheets (CSS) and programming languages like JavaScript can help.
Web browsers accept HTML documents from a web server or locally stored files and convert them to multimedia web pages. HTML initially featured cues for the document's look and described the structure of a web page logically.
HTML has been in use since 1991, but HTML 4.0 was the first standardized version to have a reasonable representation of foreign characters. When an HTML page contains special characters that are not in the seven-bit ASCII range, two factors must be considered: the integrity of the data and universal browser display.
What can you do with HTML Encode/Decode Tool?
HTML Encode/Decode is a one-of-a-kind utility for encoding plain HTML.
This program helps you encode/decode Hyper Text Markup language data and saves you time.
The Plain HTML data URL may be loaded with this tool, which loads plain data to encode/decode. Click the URL button, type in the URL, then click Submit.
By submitting a plain HTML file, users can convert it to encoded HTML.
HTML Encode/Decode tool is compatible with Windows, Mac OS X, Linux, Google Chrome, Firefox, Edge, and Safari.
Common usage of HTML Encode/Decode
The character you're trying to type isn't supported by your keyboard. Many keyboards, for example, lack the em-dash or the copyright sign.
What you want to do is make it clear in the source code what is going on. The   code, for example, is more readable than the comparable white space character.
You need to escape HTML special characters like <, &, or ".