Cleanup Microsoft Word HTML
To use Cleanup Microsoft Word HTML, copy your information to the text box, pick the cleaning parameters, and then hit the 'Cleanup Word HTML' button.
If you work in website development, you're probably aware that migrating material from one website to another or from a word document to your website isn't always straightforward due to the numerous classes and inline styles used by the source. It's understandable that you want to remove all of the unneeded code from your source.
Cleanup Microsoft Word HTML is as simple as it gets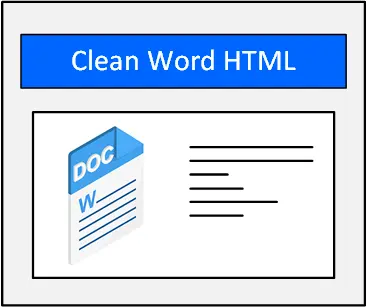 Because it operates like any other word editing tool, the Cleanup Microsoft Word HTML has a very basic and intuitive working approach. All of the essential functions you could require are listed in the control bar above the text editor. To reveal and alter the hidden settings, click the icons with the little arrow pointing down.
It's simple to make errors when altering HTML. Wouldn't it be great if there was an easy method to automatically correct these errors and turn careless editing into well-organized markup? Yes, there is now! Cleanup Microsoft Word HTML is a free program that allows you to do precisely that. It also works well with the horribly difficult-to-read markup created by specialized HTML editors and conversion tools, and may help you discover areas where you should focus more on making your sites more accessible.
Copy your material to the text field, specify the cleaning options, and then press the Cleanup Word HTML button to utilize Cleanup Microsoft Word HTML.
How to use Cleanup Microsoft Word HTML?
With our tool, the procedure is quite straightforward and only involves a few basic steps
Use Microsoft Word, WPS Writer, or any other rich text editor to open your file.
Paste the material into the above-mentioned box.
Click Cleanup Word HTML from the menu bar and clean the content from unnecessary codes