AI Brand Name Generator
In seconds, the AI Brand Name Generator generates a slew of company name possibilities, then lets you verify domain availability, social handles, and even view logo options with a single click. Don't believe us? We understand if you're fussy. As a result, humans come up with business names in a number of ways, including created names, compound terms, and established industry names.
How do I generate company names with AI Brand Name Generator?
All you have to do is press generate button and our tool will spit out suggestion. You don't like them? Press generate one more time and new set of names will be ready for disposal.
How can AI Brand Name Generator Help With my Branding Problem?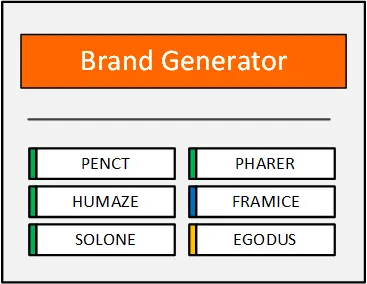 It facilitates brainstorming. Entrepreneurs frequently become emotionally committed to a business name or concept before thoroughly evaluating it with others. The AI Brand Name Generator is like having a hundred pairs of eyes that assist users come up with new names. Simply type in a few terms of interest, and the generator will quickly generate a list of names.
It helps you save time. Time was wasted before AI Brand Name Generator by making a list of names and phoning friends and relatives to run them by and seek extra input. Using an artificial intelligence system to calculate name ideas, our AI Brand Name Generator reduces the time and procedures required to develop ideas.
A brand name is best described as a company's personality that people recognize and associate with its products or services. Thanks to social media and direct-to-consumer marketing capabilities, small businesses with limited resources may now compete with the largest brands in the digital era. As a result, branding has never been more crucial.